Hinges
CB Series Hinges
|
BEST CB Series hinges are concealed bearing hinges that have vertical and lateral wear performance that exceeds ANSI/BHMA Grade 1 standards.
Patented construction called LifeSpan® is designed to eliminate metal-to-metal contact between knuckles. As the stainless steel washer extends into the sleeve, it eliminates metal-to-metal contact between the pin and barrel, resulting in a smooth, quiet operation superior to that of a ball bearing assembly.
In addition, the concealed bearings allow for fewer horizontal barrel lines that provide a more seamless appearance. The BEST CB Series is ideal for medium to heavy weight wood and metal doors in high frequency usage applications.
Weatherized Hinges
BEST CB series 626W Satin Chrome and 630W Satin Stainless are weatherized hinges. They deliver quality and performance in the toughest of elements. Resistant to rust, corrosion and salt, the weatherized hinges maintain their visual appeal throughout the product life cycle and are the ideal solution for applications like natatoriums, water treatment facilities and exterior gates.
Hinges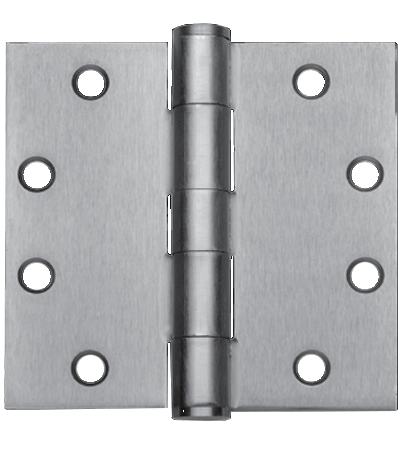 ---
Features
AVAILABLITY
3-Knuckle and 5-Knuckle design

 

Full mortise, half mortise, full surface and half surface

 

Heavy Weight and Standard Weight

 

Weatherized options (626W & 630W)

 

Limited lifetime warranty for the life of the building

 
SELECTION
30+ finish options 

 

Wide range of sizes

 

Electrical (4, 6, and 8 wire) options (10 wire option made-to-order)
DECORATIVE TIP OPTIONS
Ball, crown, steeple or specialty tips (i.e., hospital, institutional)
Applications
 

Ferrous – Ideal for interior applications

 

Non Ferrous – Perfect for exterior or corrosive environments

 
---
The BEST solutions for your industry
Where it Works

Learning & Higher Education
Protect fingers and minimize injuries. Despite time spent checking school doors, it only takes one to put students, staff and property at risk. New or retrofit with a quality and versatile BEST hinge that will last.

Government
New or retrofit with quality BEST hinges. Save time and money by retrofitting existing doors and frames. No need to start over when installing BEST series hinges.

Healthcare
New or retrofit with quality BEST hinges with special tips specifically designed for hospitals, and healthcare facilities.

Retail & Commercial
There's a hinge to suit virtually every application. BEST Hinges fit doors better and last longer. Available in many styles and models for high-traffic entryways.
---
Finishes

605: Bright Brass

606: Satin Brass

613: Oil-Rubbed Bronze

619: Satin Nickel

625: Bright Chrome

626: Satin Chrome

630: Satin Stainless Steel

690: Dark Bronze Coated

622: Black
UltraShield™ antimicrobial coating available
---
Find A Dealer
Connect with a Local Dealer
With dealers in every major city and region across the United States, you have immediate access to all BEST products.
Find a Dealer