Hinges
Emergency Rescue Hardware Series
|
BEST hospital rescue hardware is designed for a variety of door applications including patient rooms in hospitals, institutions and convalescent homes to private residences.
Hinges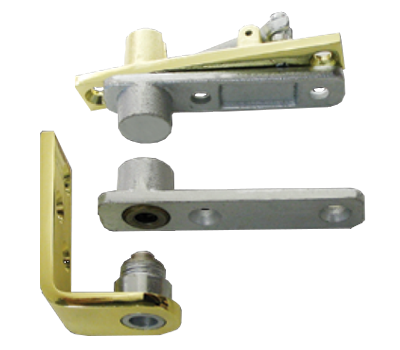 ---
Features
DAP-3 (DOUBLE ACTING PIVOT) – (ANSI A2742)
Brass and malleable iron – standard finishes

 

Heavy-duty pivot assembly for commercial double acting interior doors of average frequency use, weighing up to 135 lbs. (61 Kg) and not exceeding 3′ (914 mm) in width

 

Header plate has a walking beam design to simplify door installation

 

Extra heavy thick solid brass frame plates

 

Oil impregnated bronze bearing in top door plate

 

Smooth acting ball bearing assembly in bottom door plate

 

Bottom bracket is frame mounted and must be floor supported
ES-1 (EMERGENCY DOOR STOP) - (ANSI A1882)
Extruded and cast brass – standard finishes

 

For converting double acting doors to single acting doors

 

Emergency release allows door to swing open in opposite direction to reach ill patients who fall and block normal path of door

 

Stop release resets automatically

 

Spring action stop, with finger-tip release, using pullman-type latch bolt with rubber bumper insert
DLS-1 OR DSL-2 (DOUBLE LIPPED STRIKE)
Inset hung doors – Brass – standard finishes

 

For center hung doors – Brass – standard finishes

 

Allows center hung doors to be opened in both directions without damage to frame

 

Available for 5-3/4″ cased openings
---
The BEST solutions for your industry
Where it Works

Healthcare
New or retrofit with quality BEST hinges with special tips specifically designed for hospitals, and healthcare facilities. Available in many styles and models.
---
Find A Dealer
Connect with a Local Dealer
With dealers in every major city and region across the United States, you have immediate access to all BEST products.
Find a Dealer