Precision Exit Devices
5000 Exit Trims
|
Complete your PRECISION exit device solution with our coordinated trims.
We offer many options to fit a wide range of applications. And we don't just match aesthetics—our trims provide the same quality and reliability you expect from PRECISION.
Field reversibility for easy installation
Variety of finishes and trim styles
Extra strength "overload" springs and cast stainless steel internal components to withstand abuse
Lever automatically returns to the home position; no resetting required
Available functions: dummy, night latch, classroom and passage
Recessed cylinder for increased security and aesthetics
Precision Exit Devices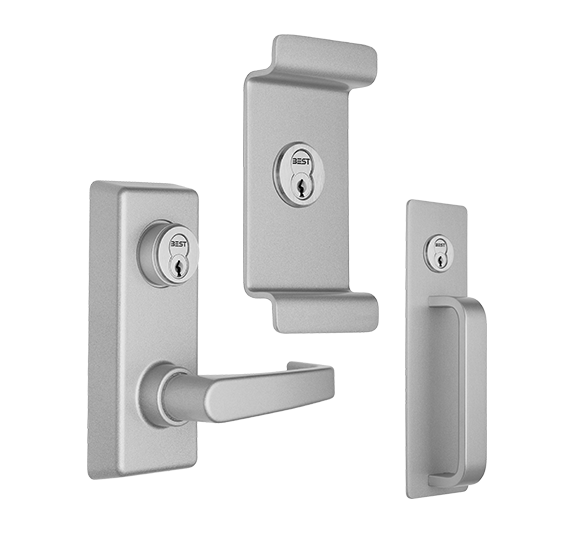 ---
Features
Trim Styles
Cover Plate – 501
Pull Plate (no key) – 602
Pull Plate (w/ key) – 603
Pull Trim (no key) – 702A
Pull Trim (w/ key) – 703A
Lever Trim (w/ key) – 808A
Lever Trim (no key) – 814A
Keyways
BEST (7-pin standard): A, B, C, D, E, F, G, H, J, K, L, M, N, P, Q, R, BA, DD, GP, TA, TB, TC, TD, TE, SC, SD
Series Dimensions
See catalog for dimensions
---
The BEST solutions for your industry
Where it Works

Learning & Higher Education
In the school sector, security and budget are top priorities.
PRECISION can help you achieve both—without sacrificing one for the other. Our premium-quality panic and exit hardware give schools the access and egress they require. And because our products are durable—which means, long life cycles and minimal maintenance—the reduction in cost of ownership makes it well worth your investment.

Government
PRECISION products have been a standard in government markets for more than 70 years. Our solutions have a proven track record in the government market, serving a wide range of applications and security requirements.
Our Security Government Program makes it simple for federal and state agencies to get the panic and exit hardware they need through the purchasing channels they prefer.

Healthcare
Regardless of the type of healthcare facility—hospital, assisted living facility, long-term care building or a physician's office—your objective is the same: create a secure environment that is easy to maintain. PRECISION panic and exit hardware helps you do just that. Our products offer innovative features and provide the safety and security the healthcare market needs.

Retail & Commercial
With a broad selection of functions, styles and finishes, it's easier than ever to suite across all types of doors in a commercial or retail facility.
Our solutions have a proven track record, serving a wide range of applications and security requirements. Because PRECISION products are made to last, property owners get the most out of their investment over the entire product life cycle.
---
Finishes

689: Painted Aluminum

695: Dark Bronze
UltraShield™ antimicrobial coating available
---
Find A Dealer
Connect with a Local Dealer
With dealers in every major city and region across the United States, you have immediate access to all BEST products.
Find a Dealer